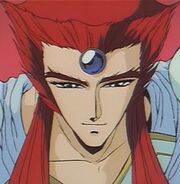 Bishamonten
(毘沙門天)
 is the most powerful of Taishakuten's four generals. He began as a talented but low ranked officer in the service of the previous emperor but chose to side with Taishakuten in return for being given Kisshouten as his wife; with whom he is deeply in love. In a flashback, Taishakuten warns his ally that this plan will probably result in Kisshouten hating him but Bishamonten replies that he doesn't care because all he wants is to keep Kisshouten near him and he doesn't see any other way it would be possible. He chooses to never tell Kisshouten that all he had done, he has done so he can be near her. Bishamonten is eventually killed by Yasha in the final battle; an event that precipitates the discovery that Kisshouten was equally in love with him, despite everything he had done.
Ad blocker interference detected!
Wikia is a free-to-use site that makes money from advertising. We have a modified experience for viewers using ad blockers

Wikia is not accessible if you've made further modifications. Remove the custom ad blocker rule(s) and the page will load as expected.